Customer Reviews
I recommend this product
Pastel Cartoon Saree
Have always loved chhapa sarees. I loved the quirky print and pastel colors. Also its an added bonus that it is sustainable. Can not wait to wear it
01/04/2021
Supriya S.

United States
I recommend this product
Beautiful purchase
Love the color, print and comfort of using chappa saree. Even after a year, there is no loss in color, which is quite unusual for a hand block printed product, but it shows their commendable quality of dyes and fabric.
12/18/2020
Anubha V.

India
11/28/2020
Manisha B.

India
Different colour, but great customer service
The saree is of a pale, light, bluish-greenish colour, and not really the mint green as in the image shown. While the print is great, the colour is disappointing. What I'm very happy about, though, is the warm response and great customer service provided by Team Chhapa, doing everything needed to facilitate a return or a replacement if I wanted. Thank you!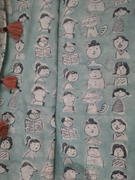 11/17/2020
Charu p.

India
Worth buying
Thank you so much Chhapa for making such a beautiful handmade print saree. Fabric is so soft that I can ware it whole day without complaining People loved it when I posted my photo on IG. Minimum 10-15 people ask me from where I bought it ?! They wanted to have such unique saree in their collection.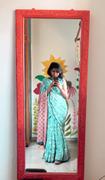 11/16/2020
Hiral M.

India
11/10/2020
Pitu

United States
Unique, quirky saree.
I absolutely love this saree. The print is so unique and cute, and I love the unusual color combination of blue and peach. There are little elements that make this saree really special - like the polka dotted pallu and blouse piece and the tassels. The cotton fabric is very comfortable. I wore this saree for Ganesh Chaturthi and really loved it. Can't wait to buy more Chhapa products.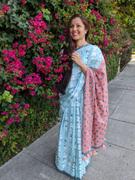 11/09/2020
Shaiqua M.

United Arab Emirates
A fantastic buy!!
Finally got a chance to wear this sari I bought last year!! Not only is the print/ design fantastic (friend who saw me wearing it bought it the next day!!) but the fabric is perfect- smooth, soft and just right in every way!! Got me more compliments than my expensive saris! Only problem is that the day I wore it I had to go and buy another sari from chhapa!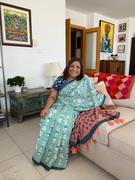 A great purchase
Just received my saree in the post. Such an impressive sales cycle having just purchased it two days ago and living outside of India yet receiving it very promptly, in good condition and good packaging too. The saree is gorgeous. Beautiful soft fabric and a fun print. Can't wait to show it off.
Vibrant and Comfortable
Thank you so much for this beautiful saree. The material is great and it looks so colorful and vibrant when draped. It's a perfect blend of comfort, quirk and elegance. New Goal: To buy all Chhapa sarees! Love
Amazing color combo and breezy comfort
What a beautiful saree... Comfortable, cool and so so quirky! Absolutely lovely!
Loved the cartoon saree
Thanku so much Chhapa for this beautiful saree loved it to core♥️♥️
❤️ for 9 yards....
If Chhapa keeps on designing such beautiful,amazing quality sarees,my love for the 9 yards will keep on improving....love the way u ve dyed it,put the print on it,presented it...❤️ everything about it And Thank you so much for the swift deliver! ❤️
Absolutely Love!
My cartoon family saree drapes beautifully. Its light and so easy to manage. The pastel colors combination is so pretty.
Thank you Aditi for your love and support :)
Best sarees with best prices
Customer satisfies more if he gets more quality product in reasonable prices... chhapa was such brand providing ultra stylish looks for very good prices...I really love their sarees...must try if you are a saree lover and this printed saree with unique cartoon printing and deadly colour combination is to die for...can't wait to try...
Thank you Shwetha for your Love and Support :)
Oops! No Results Found
Sometimes you have to be lost before you find what you're looking for.
{{ currencySymbol }}{{ numberWithComa(item.activeCurrencyPrice) }}
{{ currencySymbol }}{{ numberWithComa(item.activeCurrencyDiscountedPrice) }}
Sale
Sold out
Filter by
Reset all
Close