Customer Reviews
02/18/2021
Smitha .

India
I recommend this product
Lovely saree and so comfortable can be worn without any hassle
It is beautiful colour with cute black prints which will enhance your look.. additionally saree is so comfortable due to the pure cotton quality you can wear it so comfortably.. I was apprehensive buying it but with loads of compliments which I received after wearing makes me feel it is wort it !!!!!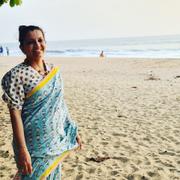 02/04/2021
Smitha M.

India
I recommend this product
Superb ..loved it
Been very apprehensive of the saree..but when it came I really loved the colour and prints . They are the best
Oops! No Results Found
Sometimes you have to be lost before you find what you're looking for.
{{ currencySymbol }}{{ numberWithComa(item.activeCurrencyPrice) }}
{{ currencySymbol }}{{ numberWithComa(item.activeCurrencyDiscountedPrice) }}
Sale
Sold out
Filter by
Reset all
Close